Подарък към всяка поръчкаПолучавате подарък към всяка поръчка от sexshop.bg.
Гаранция за най-ниска ценаГарантираме най-добрата цена
Безплатна доставка - над 50лвБезплатна доставка
Дискретност и сигурностДискретност и Анонимност
Гаранция 30 дниГаранция на всички продукти
DOOZ 14000 delay Spray
Put an end to premature ejaculation! DOOZ 14000 delay spray is one of the most powerful delay sprays in the world. Delay your ejaculation as long as you like.
Thanks to this
lidocaine spray
, you will be able to prolong your pleasure and satisfy your partner.
A large number of men complain of premature ejaculation, not only do they suffer from this, but their female partners also complain of this rapid ejaculation. Everyone asks themselves how to ejaculate slower, male ejaculation is possible to control thanks to Dooz 14000 and deliver multiple orgasms to your partner. The spray is injected into the head of the penis about 5-10 minutes before intercourse. This is enough to keep your ejaculation up to 10 times longer than usual and avoid rapid ejaculation.
DOOZ14000 retention spray is recommended for anyone who suffers from premature ejaculation and has a problem controlling it.
If you have been thinking about premature ejaculation treatment, then you just need DOOZ 14000, male ejaculation is something unique, but not when it occurs too quickly.
Advantages:
Reduces penile hypersensitivity
Retention of ejaculation
Gives you a longer-lasting erection
Dooz increases your pleasure
You enjoy the multiple orgasms of your partner
It boosts your confidence and gives you control over your ejaculation
You will never expose yourself to her again
Sufficient for about 200 sprays
Premature ejaculation causes different, solutions one DOOZ 14000 spray for retention.
Douz 14000 delaying aerosol spray, produced under strict control in Germany. Clinically tested and fast-acting formula 10% lidocaine formula enriched with vitamin E, quickly absorbed by the skin. The active substance reduces the hypersensitivity of the head of the penis, this leads to a delay in the ejaculatory latency time, without adversely affecting the sensation of ejaculation.
How to use: Spray 1-3 times on the glans penis and wait 5-10 minutes for it to take effect, do not spray more than 10 times.
How many times can I use the delay spray per day: Within 24 hours it can be used several times, each use means from 1 to 3 sprays or more if necessary. There should be a gap of 4 hours between each use.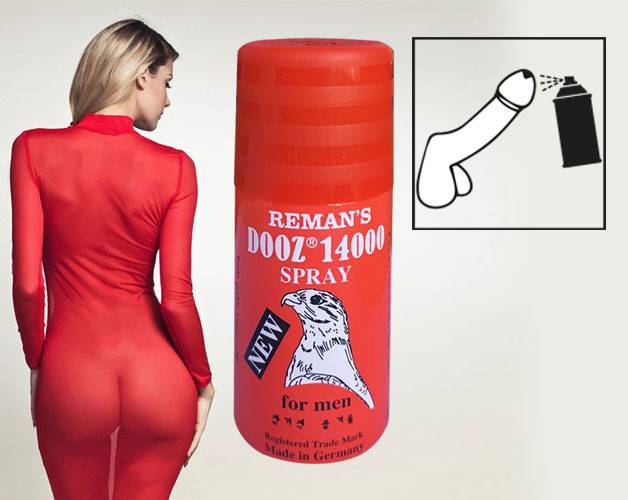 Packaging : 45 ml
For external use only
Shelf life : 3 years
Manufacturer: REMANS, Germany
+
DOOZ Rx will help you strengthen your erection, a nutritional supplement - a sexual stimulant with an extremely fast action.
Increases the strength of the erection
Increases the hardness of the erection
Increases the duration of erection
You will be able to satisfy your partner like never before! DOOZ Rx are capsules for a strong and lasting erection, they help to improve the sex life, it acts favorably in the weakening of the erection or in its absence, it prolongs the intercourse. The capsules have an exceptional effect on erectile dysfunction, which is the inability to achieve or maintain an erection of the male penis.
How to take: Take 1 capsule daily 40 minutes before sex, with a sufficient amount of water. Do not exceed the daily recommended dose
Storage: In a dry and sun-protected place. Keep away from children!
DOOZ Rx is a dietary supplement and should not be used as a substitute for a varied and balanced diet for good healthconditional lifestyle!
Delivery in discreet packaging